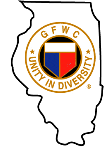 We are a group of dedicated women who fully support the current GFWC IL State President's theme of
"If It Needs To Be, Volunteers Are The Key."
We try to see what is needed in the community and find a way to help.
Club Theme for 2014-15 is
"Don't Wait For The Time To Be Right...Do it Now"